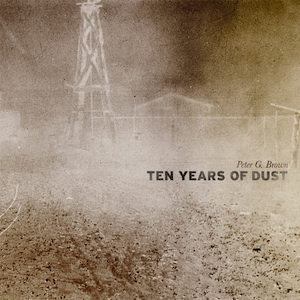 "Brown's talent for pacing, contrasting calm against cloudy and arranging pleasant harmonies out of just the right kinds of sounds is what makes Ten Years of Dust a cut above the rest."
Chuck Van Zyl – Host of Star's End Radio
Slo.Bor Media is very proud to announce the release of Peter G. Brown's debut solo album Ten Years of Dust.
Ten Years of Dust reminds us that good music composition transports you – it changes your world. Like any great art, it can take you from where you're at to someplace else. It can evoke feelings and places, other cultures, other worlds and maybe other universes. Subtly reminiscent of Budd and Eno's The Pearl, Ten Years of Dust blends delicately layered piano with guitar, strings and electronics to create a sound world perfect for late night listening.
Peter's ability to unify synthetic and organic timbres is unlike any recording that we can recall. Ten Years of Dust has moved beyond the territory that Tangerine Dream had broached and Radiohead attempted with Kid A, but neither of these masterful collectives were able to move beyond. Peter's done it and then some. The freshness of this recording is quite rare these days and long overdue.
Peter G. Brown: Ten Years of Dust is a download only release and is now available in all good digital retailers, ie: iTunes, eMusic, Rhapsody, etc.
Track Listing
1. Last Pilgrimage
2. Beacon
3. Arrival
4. The Gwynns Falls
5. Northernmost
6. Cross in the Mountains
7. Archipelago
8. Between Name, Between Face
9. Yet To Come
10. Empty Graves
11. Overland Route
12. Ten Years of Dust
13. For James Whittaker
14 Youth
Total Running Time: 57′ 40″
Beacon [full track preview]
Audio clip: Adobe Flash Player (version 9 or above) is required to play this audio clip. Download the latest version here. You also need to have JavaScript enabled in your browser.
Yet To Come [full track preview]
Audio clip: Adobe Flash Player (version 9 or above) is required to play this audio clip. Download the latest version here. You also need to have JavaScript enabled in your browser.